10A Grade Bone straight extensions 8-30" (bundles) starting at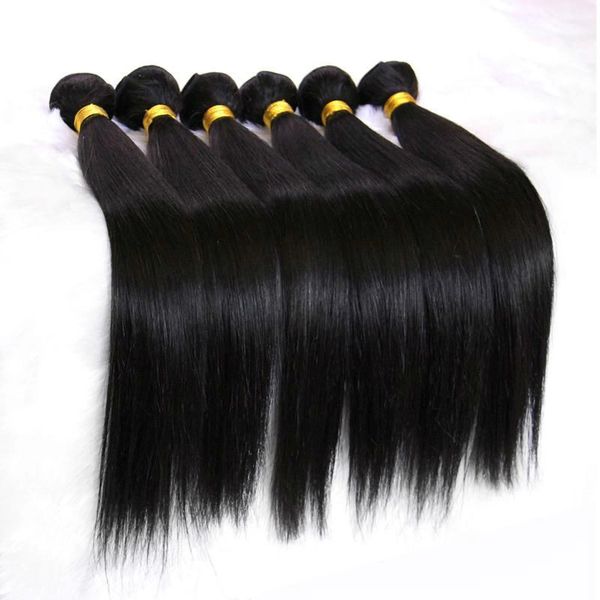 10A Grade Bone straight extensions 8-30" (bundles) starting at
Indian:
It's the most versatile and readily available on the market. The hairs density is very fine. It's naturally airy, light and bouncy and can easily be curled and styled. Indian hair moves effortlessly with minimal products. It also blends well with most hair textures. This hair texture can be found ranging from silky to lightly coarse. This hair will swell and become frizzy in humid weather and in foggy conditions. Anti-frizz products are highly suggested.
Brazilian:
Brazilian Hair is the most sought after texture on the market right now. This hair is used diversely because of its softness, durability and density (thickness). This texture is easiest to blend with most ethnicities from some Caucasian textures to African American relaxed textures. Brazilian hair is extremely luxurious and very soft with a lot of body and natural shine. Its lustre is low to medium.
Because of the density of Brazilian hair, you may not want to use as many bundles as you would normally use with other textures to create a full look. Due to its natural density, with this hair, less is more. Also because of its density, it is less likely to frizz than other hair types like Malaysian or Indian Hair. Brazilian hair will also hold curls longer than Indian or Malaysian textures. This hair is extremely versatile. It's amazing!
Peruvian:
Peruvian Hair is the ultimate multi-purpose hair! It's extremely soft and ultimately feather light! You can have up to five bundles of a Peruvian hair installed yet still maintain a feathery light, maintainable style. This hair is coarser in texture than Indian or Brazilian hair and its lustre is low to medium. It blends very well with African-American relaxed hair textures and medium Caucasian hair textures. This hair is Luxurious and another one of our favourites.
Malaysian:
Malaysian Hair is a highly sought after texture and a very popular option among celebrities. Malaysian hair has an extremely luxurious feel and is sleek and shiny, but not excessively shiny. Its lustre is low to medium-similar to Brazilian hair. This hair hold curls extremely well without the use of products. It is generally very dark brown; close to black with some bundles may have lighter ends. This hair blends very well with most hair types including African American. It does not swell or frizz in humid conditions making it low maintenance. This hair is amazing-you will love it!
Virgin Cambodian hair:
Cambodian hair is extremely popular and known for its soft, fine, luxurious texture. This hair can be washed and blow-dried for a straight sleek look or curled for a vivacious bounce! Cambodian hair is very similar to Mongolian hair as it mostly comes in the texture Straight. Cambodian hair is becoming high demand more and more, as it has a slightly coarse texture and is a good match with freshly relaxed African American hair. Cambodian Hair is as natural as our own hair, it holds curls really well, and it can be straightened, flat iron and curled to your tease.
Virgin Filipino Hair:
Our Virgin Filipino Straight hair is imported directly from the Philippines and is free of any processing. This hair is 100% virgin with the cuticles intact. The strands are thick and slightly coarse with a healthy shine. This hair is very easy to maintain and is able to hold a curl nicely. Our hair can be curled or worn bone straight for a sleek look.